Reversible air conditioner
A 2-in-1 device for maximum comfort throughout the year
With a single button, switch from heat to cool as the seasons go by with our reversible air conditioning and heat pumps.
Savings through the use of renewable energy
Facilities adapted to your living spaces with recognized energy performance. Air conditioning and heat pumps allow you to save money throughout the year through the use of renewable energy naturally present in the air.
A sanitized and dehumidified interior
The air captured by the air conditioning or heat pump is returned to your habitat after being filtered.
VRV (Variable Refrigerant Volume)
It is a direct relaxation system that feeds, through small refrigeration tubes, several units.
The VRV was originally designed for very large surfaces, but over the years it has been developed into several variants, including the mini VRV, intended for smaller surfaces and has evolved thanks to new technologies. Now a VRV solution exists for every need. This connects up to 64 interior units (ceilings, consoles, etc.) to a single outdoor unit.
The VRV is now even more flexible and efficient and new types have emerged:
The energy-recovery VRV
The RVV heating for cold regions
Water condensation VRV
The newest VRVs benefit from Inverter technology and the "multiple tenants" function.
Inverter technology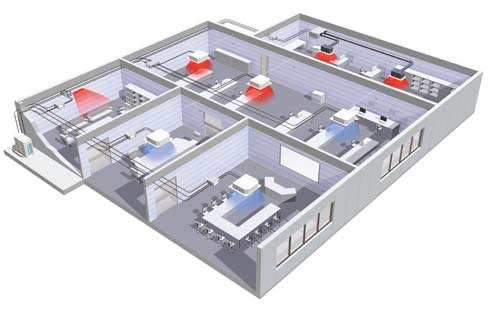 Inverter technology constantly adapts your system to your real needs: no need to intervene on the settings, the programmed temperature is maintained automatically regardless of the changes (level of sunlight, number of people in the room, operation of electrical appliances sources of heat …). In addition to unrivalled comfort, the entire installation benefits: purposely requested, it extends its lifespan and makes you achieve up to 30 energy savings compared to a traditional heat pump.
Benefits of VRV
Some of the highest COPs on the market: up to 4.56.
Operating with outside temperatures of -20 degrees Celsius.
From 16 to 64 indoor units on a circuit.
A complete range suitable for all surfaces and types of buildings.
It is possible to heat and cool simultaneously.
Centralized control tools.
At your disposal for all your energy needs in Grasse, Antibes, Monaco, Nice, Cannes, Saint-Raphaël…